Mobile App Development (Smart phones) At the present time it is the result of the rapid development of technology as there are a lot of electronic marketing methods and the promotion of services and products and led to the spread of smart phones to the growing demand for designing smart phone applications with their two systems. Android and IOS In order to meet the desires and needs of users and customers, and therefore most owners of companies, institutions or individuals need to promote their services and products faster and better and we are at RESCODY We offer mobile application design services that meet our customers' desire to promote their services and products in an innovative, creative and interactive way on smartphones with Android or iPhone systems.
You Have an idea and need an app for it ?
If you are a business owner or have a project idea of ​​your own that needs to communicate with your customers quickly and distinctively, increasing your customers' confidence in your services or products, then you need to request a service for smart phone application design from RESCODY for more convenience in communicating with your current or prospective clients
How Much To Make An App?

The price of designing an app is determined based on several things, including the idea and characteristics of the application to be implemented, and therefore the price is not determined before the idea becomes clear and the properties of the application are clearly defined in advance.

Features of App Design From RESCODY
With us is the beginning that guarantees the continuous success of your business
Privacy

We reserve the right to privacy of your exclusive idea.
Security

We at RESCODY apply all 100% protection and safety rules.
Technical Support

We care to provide technical support to develop mobile applications
Multilanguage

The ability to provide multiple languages for applications as desired by customers.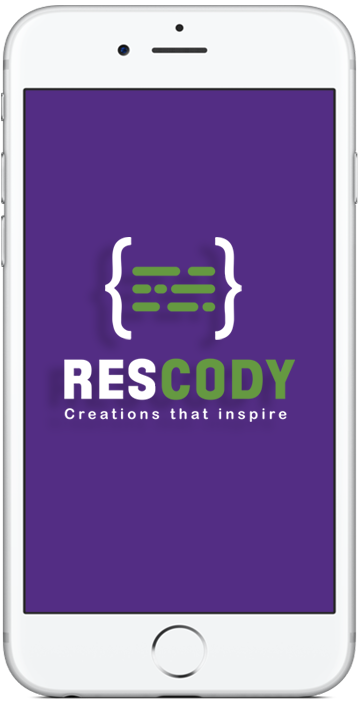 High quality

Quality is a cornerstone of all our services in general, and in Mobile App Development in particular.
Easy Dashboard

We provide an easy-to-use application Dashboard to ability to modify the content of Mobile App.
E-Marketing suggestions

We provide E-Marketing services & we giving suggestions and E-Marketing guidance to our customers.
Usability

We care about providing usable designs to achieve the goal of application success.
Mobile App Services

We transform your wonderful ideas into reality
iOS
Building iOS apps using Swift programming language, for both iPhone and iPad.
Android
Building Android apps using Gradle building tool and Android Studio, for different devices and screen sizes.
UX Study

In RESCODY we provideing studies and analysis of UX (user experience) of Mobile Apps to reach an application of technical value.
UI Design

The Good design is the first thing that attracts the user, so we care about designing the application in attractive and usable ways.
Mobile App Analysis

At RESCODY we provideing an analysis of any problems faced Mobile Apps and we make appropriate software solutions for them.
Quality & Testing
Quality is everything to us, we help you to obtain and deploy advanced , well-tested applications on the market.
How Can We Help You ?

At RESCODY we work to turn your great ideas into a valuable technical product for your business.